The Better Choice
- Easy Install: Just hook over the handle and tie the lace.
- Safe: Smart design allows for proper ventilation with every use. No worry of melting onto light fixture.
- Reusable: Designed to be more affordable than Cello Scrim with the ease of repeat use.
- Easy Storage: Packs flat to slide in and out of flag racks and carts.
- Custom Fit: While many of our standard models are compatible with multiple brands and fixtures, each design is strategically formed to maxmize protection for its labeled model.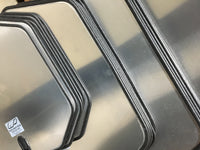 Rob's Rain Hat Features
Constructed from lightweight aircraft-grade aluminum alloys that give Rob's Rain Hats very little shape memory and that retain their flatness for ease of storage.
- Protects from real or FX rain and snow
- Protects Ballasts
- Installs quick and easy
- Aluminum construction, will not rust
- Light and flat, stores in your truck or cart
- Safe, covered with rubber edging